One day you discover a crack running across your window, this crack hasn't been caused by anyone or an object hitting it, so what could it be?
This crack could be what is known as "thermal breakage" or a "thermal stress crack". A thermal breakage is not usually a defect in the glass but occurs as a result of expanding and contracting glass due to temperature changes. This occurs commonly in annealed/float glass* when one area of the glass pane becomes hotter than an adjacent area. Stress builds up and if the stress is too much, the glass expands in the heat or shrinks in the cold which can cause it to crack.
The greater the temperature difference, the greater the thermal stress becomes. Solar energy is the major cause of temperature differences in glass.
Here are some typical conditions where thermal stress breakages can occur:
On a sunny, cold winters day. Part of the window may be shaded under an overhang, behind a building, by a tree or fence. The glass not in shade will be exposed to the hot sun and the extreme contrast in temperature in the glass may cause it to crack.
Blinds or drapes reflecting heat back into a house. If proper clearance between the glass and the blind is not maintained, it can exaggerate this problem and overheat the glass.
When something is placed on the inside of the window, for example a sign or blinds. This can also create the conditions to cause thermal stress.
Seasonal factors, like dramatic overnight temperature changes, are a common cause of stress cracks as well. When areas are experiencing hot temperatures during the day and then much cooler temperatures at night.
By installing stronger "toughened" glass and choosing glass features based on climate and sun exposure will help prevent thermal cracks. Different glass products have different tolerances, and some products are far more likely to break due to thermal stress than others.
The stronger the glass, the less likely stress cracks will occur. (see below)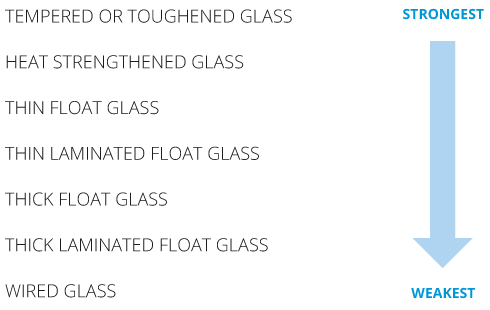 Tempered/toughened# glass and heat strengthened glass are unlikely to experience excessive thermal stress resulting in breakage. Annealed/float glass products are more likely to experience thermal stress and breakage – this includes laminated float glass products.
It is important to note that when glass is altered with tinting, low-e coatings and reflective coatings, the risk of thermal stress increases. It is recommended that when using these products, a thermal assessment is undertaken.
Unfortunately, because thermal stress cracks occur outside of our control and are not a result of defects in the glass or poor workmanship but due to environmental conditions, thermal stress cracks/breaks are not claimable under warranty. We strongly encourage homeowners to discuss with their builder or window manufacturer how much sun exposure or shade cover will be placed on the windows to be installed both now and in the future (as plantings such as tress grow over time). This is to ensure that the correct glass strength is used to prevent thermal stress cracks occurring.
Footnote:
*Annealed/float glass is a softer glass that has been thermally treated and then slowly cooled to relieve any internal stresses.
#Tempered/toughened glass is made using special heated furnaces, which heat the annealed glass to a uniform temperature of approximately 700°C. When the glass exits the furnace, it is rapidly cooled. Tempered glass is much harder and stronger than annealed glass and can stand up to moderate heat (240°C).